Law office ad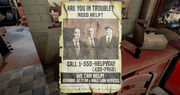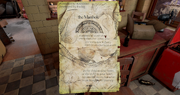 The law office ad is a document in Obduction that is found at the Gas Station. On the front is an advertisement that was placed in the periodical The Global Adventurist on 26 July 1988. It serves as a clue that letters can be represented as numbers (A=1, B=2, etc.), helping the player translate a license plate number into the access code to restore power to the Tower.
The paper may be turned over, revealing an Easter egg: an advertisement for The Manhole, the first game developed by Cyan (Prolog at the time).
The Global Adventurist
July 26th, 1988


ARE YOU IN TROUBLE?
NEED HELP?


CALL 1-555-HELPYOU! (435-7968)


WE CAN HELP!
KENWAY, BILHEM & BALE LAW OFFICES


Free Consultation
Auto Accidents ♦ Slips and Falls ♦ All Other Injuries
Published by Activision
Developed by Prolog

the Manhole

A whimsical world where
every character comes alive
and every new hallway
leads to another wild dream

let the child in your home,
or the child in your heart,
become the main character
in an imaginative journey

OUT NOW!
C8
The Global Adventurist
July 26th, 1988