C.W.'s Community Center letter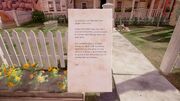 C.W.'s Community Center letter is a document in Obduction. It is found in the mailbox outside of Farley's Community Center and was typed by C.W.
To Caroline (or whomever else might come back),
It has been five days, and not a soul has returned. I am inclined to believe that things have not gone well.
Yet, surprisingly, I am still alive, and that both supremely perplexes me, and gives me some portion of hope. I have retreated to my vault for protection and to contemplate my options.
C.W.